History
Continuing a Bartolomei Family Restaurant Tradition Dating Back Four Generations

Our family's American history began in 1914 when Giorgio Bartolomei came to this country wanting to provide a better life for his family. He left his wife Rosina (Landucci) Bartolomei, daughter Gina and his two sons Daniel and Flavio back in Peigaio, Provincia Di Lucca, Italy. His plan was to get established in America first and then send for his family.
Giorgio settled in Chicago and worked for the railroad. After spending just one year in America, life became very hard for Giorgio. In 1915, he learned that the influenza epidemic that was sweeping through Italy had claimed the lives of his mother-in-law, aunt, daughter Gina, and his youngest son Flavio. Devastated, Giorgio knew he quickly needed to get Rosina and Daniel to America. Finally they received their travel papers and boarded a large steamer bound for America in August of 1918.
After sailing the rough seas of the Atlantic for 14 days, it was the Statue of Liberty that greeted them first. Once they cleared customs at Ellis Island, they boarded a train to Chicago for the next two days. Giorgio finally realized that his dream had come true when he awoke to see his son Daniel standing anxiously in the doorway of his bedroom.
Six months after reuniting with his family, Giorgio decided it was time to leave Chicago, and he moved his wife and son to Worcester,Massachusetts.Over the years,Giorgio and Rosina taught their son all their family recipes,and in 1938 they opened a restaurant together and called it Danny's Spaghetti Shop. It was located on Grafton Street.
In 1949, Danny decided to move to Cape Cod with his wife Carmela and five children: Dan Jr., George, Johnnie, Marvin and Paularose. He opened Danny-Kay's Pizzeria on Main Street in Buzzards Bay.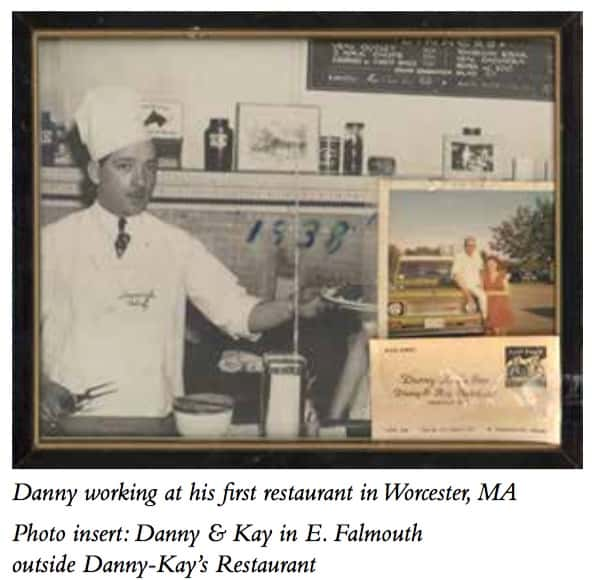 In 1958, Danny-Kay's Pizzeria moved to Main Street in East Falmouth.Then in 1959, just a few blocks away, Danny and Carmela opened the legendary Danny-Kay's Italian Restaurant. For the next 18 years residents and visitors of Falmouth enjoyed Italian Cuisine like no other. Danny and Carmela retired in 1977 when they sold their restaurant. People still to this day rave about dining at Danny-Kay's.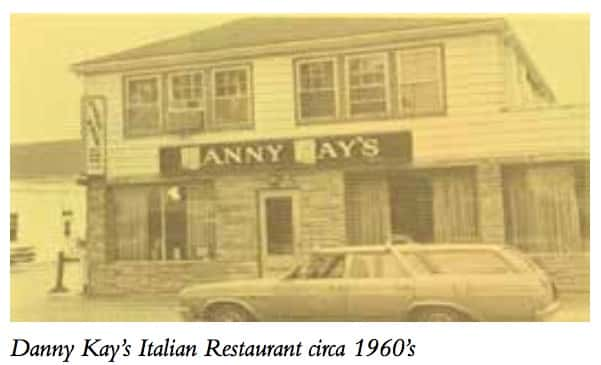 In 1969, Danny's son John with his wife Celina opened Johnnie's Diner at the Otis Rotary in Pocasset featuring the family's recipes. Johnnie served breakfast, lunch and dinner and was open 24 hours a day. In the early 1980's, Johnnie moved his business to Falmouth and purchased the Shady Nook Restaurant just off Main Street at the end of Academy Lane and opened Johnnie's Italian Restaurant.
Four generations later on March 12th, 2004 Johnnie's oldest son Jay (John Jr.) began renovations on his birthday at 188 Main Street Falmouth. On April 1st, 2005 Villaggio became a reality opening their doors for business. Jay commits to combining his family's old style Italian recipes with today's new and exciting techniques. Villaggio after just one year received the New England Cable News'TV Diners Gold Plate Award.
Impressively, Danny and Carmela celebrated their 70th wedding Anniversary at Villaggio in September 2005. Danny at the age of 94 passed away on March 31st, 2006, ending Villaggio's first anniversary. Carmela, missing her husband, followed him just over two months later on June 12th, 2006. She was 92 years old.
After six years at 188 Main street,Villaggio just became too small of a location.With only four years left on the lease and a high rent, it was time for a change.
Jay was approached by the owner of the Falmouth Inn who loved dining at Villaggio so much he decided to make Jay an offer he could not refuse.With a larger dining room, separate cocktail lounge, function hall in a 123-room hotel and a much more affordable rent, the decision was easy.
With a brand new start, Jay felt he should be respectful of his family's Italian culinary heritage and change the restaurant name from Villaggio to his paternal great-grandmother's maiden name ..."Landucci".
Looks like 2014 will be taking us to a third location in Cotuit. Having to relocate due to the hotel being sold, Jay will be reviving the Crocker House recently known as the Regatta Restaurant. Built in the 1700's the home has been used in many ways, but it was Brantz and Wendy Bryan who opened the famed Regatta making the move from Falmouth to Cotuit. Ironically Brance andWendy had their first date at Danny Kay's Italian Res- taurant, so it seems only fitting that our journey should also takes us from Falmouth to Cotuit. Villaggio at the Regatta, merging both upscale restaurants together seems to be the perfect solution and a win, win for all.
Here we are in 2020, it has been a very turbulent year with the widespread of the Corona Virus literally shutting down the country coast to coast, Jay decides to take a trip out to Del Mar, California and spend a few days with his friend Troy Nunez and his family, with whom 30 years earlier ironically shared a Travel business in which they sent their clients coast to coast on vacations around the world. While spending a few days on the beach in Del Mar Jay stumbles across a mostly outdoor restaurant baring a for lease sign. Jay's curiosity turns into a purchase of the Del Mar restaurant and his friendTroy after years of suggesting that a Villaggio Ristorante Northeast coast concept needs to be brought to the shores of California agrees to rekindle their business partnership and team up in making both their dreams unfold into reality. Once again operating yet another business Coast to Coast. In just a short few month's residents from California have dined at Villaggio Ristorante at Cape Cod and residents from Massachusetts have dined at Villaggio Ristorante at Del Mar.
Will there be a fifth Generation,that will be up to both Jay and Troy's children: Anthony, Marcus, Nikolas, Vasco and Savvy
Mangia!